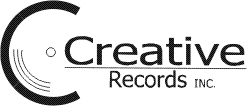 Our Mission Statement:
As the founder and owner of Creative Records, Inc. I've been painfully aware of the unmet needs of musicians, artists and performers from the run-of-the-mill web providers. I'm also very familiar with the high rates your forced to pay for this ineffectual, inferior and insufficient service. For these and several other important reasons I've developed "Creative Records Web Services." Now I'm making web space available to you.
You can manage everything about your site using your own user interface. Making changes to your web is a snap. Pooling several bands together and each individual band can have their own web site is now a reality.
Our servers will stream your audio smoothly for as low as $ 2.50 per month. You don't need to spend extra money if you don't need to. Creative Records makes it easy for you to start small and grow as you need it all at a cost unheard of in today's market.
The price you will pay is as low as $ 2.50 per month. You choose the length of time you wish to keep your site and Creative Records Web Services makes it easy for everyone on the World Wide Web to know just where you are. We even give you web submission tools to help promote your site.
Steve Lewis: President and CEO
Steve Lewis, President and CEO, oversees the daily operations and strategic development practices for Creative Records, Inc. Creative Records is a full service record company, jingle-music production house.
oxva vativ slide base
Steve has been playing music since he was 12 years old. By the time he was 14 he was already playing in clubs in and around New York City. In Junior High School he organized a band called the Rhythm-Airs, who in addition to having several of their own records, became the house band for live shows with WBAB radio in Babylon, New York. The Rhythm-Airs, aside from performing their own songs, backed up groups such as "Vito and the Salutations", Don and Juan, and "The Duprees.
Steve attended the High School of Performing Arts in New York City, where he played first chair clarinet in the orchestra and band, and first tenor saxophone in the dance band. During the Vietnam War he served in the United States Army band as the first chair clarinetist, and the band's recording engineer. Steve is used to working with talent. His radio show on WVRM (Hazlet) named "Fantasy Park" highlighted local talent and had major producers critique the artists. Through this venue Steve helped to jump start many musical careers.
Steve created and ran songwriters workshops in New York City, where he found other writers and helped them to sharpen their creative skills. At the same time, Steve enlarged his own career by founding Mall Melodies. He wrote, and produced, and performed on radio, jingles for Shopping Malls. Steve had 20 different jingles which he produced, running simultaneously at malls throughout the east coast.
For Steve, music wasn't enough. He knew about the industry changing to computerized recording and music generation and decided to do it all. He knew it so well that as a software consultant he developed synthesizer patch editors for major software vendors.
Steve plays many instruments, from his first, a violin, to a Pedal Steel Guitar. He presently owns dozens of instruments.
The combination of business skills and musical talent has enabled Steve to pull together all of the principals and talent necessary to make Creative Records, Inc. a world class company.
Ed Keighron: Vice President of Information Technology
Creative Records, Inc. is fortunate to have Ed Keighron as our Vice President of Information Technology. Since 1985, when Ed started working at Bell Laboratories, he has been working in the IT field.
Ed spent over 18 years supporting companies such as AT&T, Lucent, CommVault Systems, and the US Government. Ed worked in UNIX administration and security, from implementing AT&T World Net to High security administration for the Department of Defense. Ed has been sought out by industry leaders to set up their networks and security for their IT infrastructure.
Ed and Steve met at AT&T and have been close associates for many years. When Creative Records, Inc. decided to foray into the World Wide Net we thought of Ed.
As many people dream of, Ed too wanted to be in the music industry. And what better way would there be than to work with Creative Records, Inc. to continue to build our company to be a world class record organization.
Ed loves all the hardware and software. He excels in the installation and maintenance of computer systems and networks, from Macs to Mainframes, from PCs to Workstations, he has worked on many various Operating Systems, hardware and networks, from Cisco routers and hubs, to the latest 802.11 and Bluetooth wireless networking.
Ed has deployed and maintained servers and desktop systems and has worked on the teams that has installed web servers for departments in AT&T;, CommVault Systems, St. Barnabas Medical Systems, and Ft. Monmouth.
Steve Lewis says "How did we ever run our network before we had Ed?". We're happy to have him aboard and we're looking to grow Creative Records, Inc. very quickly.
Debbie Kanaan: Vice President of Finance
Debbie Kanaan is well known in the industry as a rising star. Debbie, a principal of Creative Records is one of the driving forces of this company. Debbie has her BA in Business Administration for Rutgers University and knows business like the back of her hand.
Aside from her business experience Debbie has a voice that sooths the mind and soul. One of her songs "I Don't Know How To Say Goodbye", Debbie's tribute to the World Trade Center Disaster reached 35 on the MP3 pop charts and her songs can be heard on radio stations throughout the country.