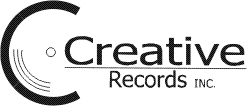 Creative Records Web Hosting Services:
The best web space prices in today's market. Creative Records knows what Musicians want in Web Space.
Creative Records Web Hosting Serviceis proud to bring you the
Music Dish Network's
Music Industry News
Music News Table of Contents
| | |
| --- | --- |
| Aboriginal Canadian Singer Rose Beach Joins NARIA | |
| RockPop Cover Story: "Unbelievable" by Howie Green | by Mike Goldstein |
| INDIE NEWS BEAT | June 15, 2007 Edition |
| Music Business Dead? What, Again? | by Moses Avalon |
| INDIE NEWS BEAT | May 7, 2007 Edition |
| Rose Beach: Conquering With the Power of Family Love | By Mark Kirby |
| INDIE NEWS BEAT | April 12, 2006 Edition |
| INDIE NEWS BEAT  | April 18, 2007 Edition |
| All That Jazz, and Afrobeat, and Calypso, and… | by Laila Boulos |
| FRENCH VIBES – AROUND THE WORLD | |
| Why Artists Get Dropped | by Chris Stranding |
| RockPop Cover Story – Bowie's Ziggy Stardust | by Mike Goldstein |
| RockPop Cover Story: "Bob Dylan – Infrared" by Elliott Landy | by Mike Goldstein |
| MusicDish To Host 2nd '10th Anniversary' Showcase During New Music West 2007 | MusicDish Network |
| Taking A Glance At Other Income Streams In The Music Industry… 2007 | by Dina LaPolt |
| Some Thoughts On The Digital Music Forum, Part 1 | by Polar Levine |
Aboriginal Canadian Singer Rose Beach Joins NARIA
Tokyo-based Aboriginal Canadian artist Rose Beach announced that she has been admitted as a member in the National Aboriginal Recording Industry Association. NARIA is a national Aboriginal association of professional Aboriginal music artists, associated music business people, and service providers.
Rose Beach, whose blend of folk music tale spinning, hip hop energy and pop sensibility she labels "fusion pop," stands to set things to right on her CD Family Love by showing love in it's true light, as a force that is our life line.
Born in Victoria, British Columbia, Canada and raised primarily in Saskatchewan by a strong, loving and musically inclined mother of Canadian aboriginal ancestry and a farmer stepfather with a love of country music, she had the dream of music early in life. "The world view that pumps through her music comes from her family and her native culture and is one where pain, abuse and oppression are countered by kindness and integrity and positive use of the force," noted music reviewer Mark Kirby.
When asked on how her mother's experiences influenced her music, she responded "My grandmother, my great-grandmother and their generation suffered atrocities. My mother experienced racism. Their experiences made me want the dream (of achievement) all the more. The native youth are strong survivors and we are proud of our ancestry and our ancestors' legacy. Always positivity through negativity, which is the message of my CD, "Family Love."
Starting in the underground streets of Vancouver and Tokyo, Rose Beach is rising into the musical mainstream in Japan where she has sold more than 50,000 records and performs weekly at many of Tokyo's famous clubs such as Club Asia, as well as corporate events for brand names ranging from Lush and Diesel to Asahi and Mac. "It's not often that a foreigner can rock the club scene in Japan, but that is what Canadian singer-songwriter Rose Beach is doing," noted the Hiragana Times.
In addition to her heavy independent CD sales, Rose Beach has been interviewed and received heavy airplay on Co-op Radio in her home base of Vancouver. She has also been interviewed and played on Inter-FM Radio in Tokyo.
Rose Beach is a member of the MusicDish Network, a complete artist development program, leveraging brand development, saturated and relationship marketing, digital distribution and industry outreach to support emerging artists' and bands' careers.

Provided by the MusicDish Network. Copyright © MusicDish LLC 2007 – Republished with Permission
---
RockPop Cover Story: "Unbelievable" by Howie Green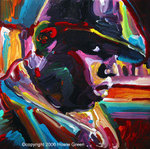 Subject – "Unbelievable", a mixed-media image created in 2006 by artist/illustrator Howie Green. Used on the cover of Mick Boogie's "Unbelievable: A Tribute to Biggie Smalls", a 2007 release on Bad Boy records.
"Unbelievable: A Tribute to Biggie Smalls" – from the mickboogie.com (producer) web site.
On the 10th anniversary of the tragic passing of Christopher 'Notorious B.I.G.' Wallace, Mick Boogie and newcomer Terry Urban of the League Crew team up to release Unbelievable: A Tribute To Biggie Smalls, a project that many critics are calling "the best Biggie mixtape ever." Hosted by Sean "Diddy" Combs, this 100% creative mixtape features Biggie material remixed the way it was supposed to be done. Original beats and special guest appearances, as well as plenty of crazy remixes, are abundant throughout the project.
Unbelievable: A Tribute to Biggie Smalls – the cover, by Howie Green
I always find it interesting when small personal projects, like my Biggie Smalls portraits, strike a chord with a public audience and go on to have life of their own. Being of a certain age I wouldn't exactly call myself a rap or hip hop aficionado – but I do know a great face when I see one and Biggie Smalls was one cool looking guy. I came across some photos of the Notorious B.I.G. when I was researching possible images for a mural project I was working on – a 30′ x 15′ wall of my album cover paintings. The mural, now located in Jacksonville, FL, needed to have a wide cross section of musical styles represented and I was looking for recording artists that were well known to most people. I found two vintage black and white promotional images of Biggie that reminded me of the kind of old school look that the jazz cats of the 1950s and the Blues guys of the 1930 used to have – "Cool" as they could possibly be.
I listened to a bunch of Biggie's tracks and I could see why he had become such a popular rapper and why he's become a legend since his death. His musical contributions are public record but what most interested me most was the way he looked. Most rappers dress up in big sneakers and street clothes and cover themselves with all manner of accouterment, but not Biggie. Biggie was a style maven and when it came to his look he had it going on! I know that an accident made him have to use a cane to walk around but the man turned the cane into a cool accessory. I appreciate anyone who can wear a hat and no one in recent history looked cooler in a hat that Mr. Smalls.
I did paintings of both the photos I found and proposed them for the mural but for various reasons they were not used and I put them in my online gallery for folks to see. About 6 months later I got contacted by a fellow named Mick Boogie who told me he was producing an album of Biggie's tracks and wanted to know if I would allow them to use one of my Biggie portraits as the cover artwork for the CD versions. I was happy that my art would finally get some use so I agreed and the album, by LCMG Productions, came out in early April to great acclaim and is making a lot of noise among the hip hop community. Before the album's release I got my pre-release copies and was surprised at the stellar lineup of talent on the tracks including none other than Sean "DIDDY" Combs as the album's host. In addition to P Diddy the tracks include The Clipse, NAS, Jay-Z, 2Pac, Lil Kim, Lil Wayne, Mobb Deep, Kayne West and others.
Several days after the album came out I was very surprised to get a photo emailed to me by Mick Boogie of him and P Diddy holding the CD with my album cover artwork (see below). I have received several emails from folks who appeared on the album expressing their appreciation of the cover and Mick is having me do a very large version of the cover done that will be given to P Diddy to hang up in the offices of Bad Boy Entertainment."
Howie Green Bio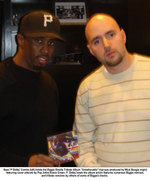 Howie's design and illustration work has won over 40 awards from regional and national design competitions. Howie's portrait "Madonna Smoking" was featured in the 2004 British Art book "Madonna in Art" by Mem Memet. Recently one of Howie's album cover paintings won First Prize in the Absolut Vodka 25th Anniversary art competition in Boson, MA.
In 1992 Howie Green came to national attention as a painter and artist with the publication of his book "Jazz Fish Zen: Adventures in Mamboland". His colorful and whimsical artwork has been featured in 18 group and solo shows and has adorned 9 public and private murals. He regularly creates privately commissioned portraits and corporate logo paintings.
Born in Rochester, NY and raised in Rochester and Clarence Center, NY, Howie Green has a unique artist's eye for the colorful fun that springs out of our popular culture. Images from comics, celebrities, movies, TV and various other flotsam and jetsam that washes up on the rocky shores of our popular media all make their way into Howie's colorful and fun Pop Art creations.
When Howie entered art school in the mid-60s at RIT in Rochester, NY, it was an explosive time in popular culture. While there Howie was exposed to color guru Josef Albers, typographic master Hermann Zaph, sculptor Wendell Castle and most importantly color theorist, painter and architect Fritz Trautman. Later, when Howie was art director of "New Age Journal", he was contacted by Peter Max after he had done a Max-like illustration for the magazine. Howie recalls "Peter saw my illustration and called me to see if we would like to use him to do artwork for the magazine. I was thrilled! Not only did he do artwork for "New Age Journal" for me, but I also worked with him for several years on projects for the University of New Hampshire. I'm also proud to say, Peter did his very first sports painting for me for the cover of the Boston Celtics Media Guide."
Howie has continued through the 1990s and into the new millennium to paint and create new images and works that combine his endless curiosity, technology and color…lots and lots of color! Regarding his use of color Howie said, "I was in art school during the era, of Peter Max, Yellow Submarine and the San Francisco rock posters. What can I say? I guess it "colored" my thinking!"
Today, Howie uses a pop-fauvist color palette and has an eclectic, upbeat, approach to his subject matter. Howie says a lot of people tell him that they love "his colors". Howie comments "My colors? They don't belong to me. Colors are out there floating around. I just happen to use them all!"
Howie's celebrity portraits combine digital technology and traditional painting to reflect the genre developed by Warhol and Max, but in a whole new approach, unique to Howie. "I was looking for a way to do something with my art and with my growing pile of computers and technology and I found it." Indeed…
In 2006, Howie created an album cover-covered cow sculpture for the 2006 Boston "Cows on Parade" display to benefit the Jimmy Fund and the Dana Farber Cancer Institute. His album cover cow – which featured 39 album covers by Boston-based bands – sold at auction for over $6000. Another work – his "Flower Cow" – sold at auction for $8500. Both cows were sold at the final auction in September 2006, with all the money going to benefit the Dana Farber Cancer Institute in Boston. His 2007 began with an installation at the Mellow Mushroom restaurant in Fleming Island Florida (featuring over 50 of his record cover recreations!), and his commission for the new Notorious B.I.G. tribute album cover (available soon as a print, click here to preview this item).
Click here to see all items in stock from this artist
Cleveland-based DJ/producer Mick Boogie sourced the title for this tribute record from "Unbelievable", a track from Biggie's 1994 release titled "Ready To Die". Ready to Die was a hugely-influential hardcore rap recording, as it established the Notorious B.I.G., his record label (Bad Boy) and label impresario Sean (Puffy/P.Diddy) Combs as the ones to beat on the East Coast.
"Unbelievable" Track List
1. Diddy Intro
2. Biggie and The Clipse: Blow
3. Biggie and Ray Cash: Gimme The Loot 2007
4. Biggie, Game, and Darien Brockington: On Top (Produced by The Kickdrums)
5. Biggie and AZ: Brooklyn
6. Biggie and Grand Agent & Liv L' Raynge: Motherf*ckers
7. Biggie and Big L: Let The Games Begin
8. Biggie: Live For The Funk (Produced by Khrysis
9. Diddy Interlude
10. Biggie and Jay-Z: Get Money (live)
11. Biggie and Kanye West: Kicks Open Doors
12. Biggie and Jadakiss: All Day Every Day
13. The Madd Rapper: Still Mad Interlude
14. Biggie and Lil Kim: Only One Thing
15. Biggie and Young Chris: Young G's 2007 (Produced by Moss)
16. Diddy Interlude
17. Biggie and Jay-Z: The Commission
18. Biggie, Black Rob and Ness: Live at the BBQ (Produced by D-Dot)
19. Biggie and 2Pac: Party and Bullsh*t (live)
20. Biggie and Lloyd Banks: Never Been
21. Biggie and Nas: It Ain't Hard
22. Diddy Interlude
23. Biggie and Ab: The East Coast Overdoser (Produced by Terry Urban)
24. Biggie and Prodigy: Escape From NY
25. Biggie and Puff: Lyricist Lounge Freestyle
26. Biggie and Lil Wayne: If You See Me (Produced by Garbs)
27. Biggie: Let It Go
28. Biggie and Mobb Deep: Last Dayz 2007
29. Diddy Outro